Civil Engineers in Huntsville, AL
Welcome to Huntsville Civil Engineering. This is the marketing website for Pro17 Engineering, LLC, which is owned and managed by J. Keith Maxwell, Professional Engineer and Land Surveyor.
J. Keith Maxwell, PE, PLS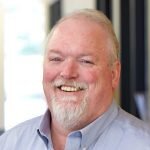 Keith is a graduate of Auburn University (BSCE 1987, MCE 1991) and has been in the consulting business since 1989. Most of that time was spent in Auburn where he was a part of numerous land development projects over the years in the "Loveliest Village on the Plains." Keith also taught as an adjunct professor in both the Civil Engineering and Building Science departments.
Keith moved his consulting practice to the "Rocket City" in mid-2015 and has hit the ground running. He has completed many land surveying projects and is currently working on multiple engineering designs for projects around the state.We cover the entire Greater Huntsville area, which includes Madison County, Limestone County, the City of Huntsville, and the City of Madison.
If you need an experienced and professional engineer and/or land surveyor on your land development team, give us a call at (256) 617-5010/